Prevent Winter Slips, Trips and Falls
Of the 5,190 workplace fatalities that occurred in 2018, 849 were due to slips, trips and falls. Although such incidents can happen year-round, winter weather conditions can increase the risk.  Despite best efforts to keep the workplace safe, rain, snow and ice can create hazardous conditions, not just in outdoor areas, but also indoors.
Here are some simple tips to avoid slips, trips and falls during wintery conditions:
When you enter a building, use provided rugs and mats to dry your footwear.
When walking, pay attention to where you are going and have your hands available to steady yourself if you slip. Avoid carrying heavy loads that may affect your balance.  If you think you are going to fall, throw the load off to the side so it doesn't injure you as you fall.
If you notice hazardous areas, mark them with temporary signs or inform janitorial staff.
Wear footwear with heavy treads for increased traction if you work outside.
Don't rush. Give yourself sufficient time to get where you need to be.
Step, don't jump, from vehicles.  Use the vehicle for balance and support.
Use handrails wherever they are provided so you can prevent yourself from falling if you slip.
Avoid inclines that are typically difficult to walk up or down as they are going to be more treacherous in winter conditions.
If you do slip, trip or fall,  twist your body and roll backward to avoid injuring your face, arms, or hands.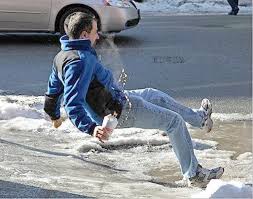 OSHA created a rule back in 2017 to address slip, trip and fall hazards.  One section requires employers must maintain walking-working surfaces in clean and dry conditions (to the extent that this is feasible). These surfaces must also be kept clear of hazards posed by sharp or protruding objects, corrosion, leaks, spills, snow and ice.
Slips, trips and falls can turn into very expensive Workers Compensation claims.  For more information on how The Flanders Group can help control the cost of all your claims, call us at 800-462-6435 or drop us a line at [email protected].  One of our Workers Compensation experts will contact you for more information.